Getting Quirky with Masaba Gupta!
The "Urbanpanache presents Masaba Gupta In Person" was my first trunk show and interview with a celebrity in the Bay Area. I am so excited that my introduction to the fashionable elite has kick-started with such grandeur and glory.Masaba Gupta revolutionized prints and kitsch. No, I am not talking about leopard or cheetah prints. I am talking about taking everyday objects and turning them into a unique style statement. Think autos, cows, and language prints beautifully crafted into tulle, nets, and cotton fabrics.
It comes as no surprise that this designer's collection serves as a staple in many leading Bollywood actresses' wardrobes, including Kareena Kapoor Khan, Anushka Sharma, and many more. Priced between $100 & $250, her stunning pieces can be a designer addition to most non-celebrity wardrobes too. The event showcased her many bright and quirky pieces, but also had many pieces from her fairly recent line - the denim collection. The collection has jackets, crop tops, dresses and saris with polka dot patterns and gold foil detailing. Effortless and chic, this line is a sure hit!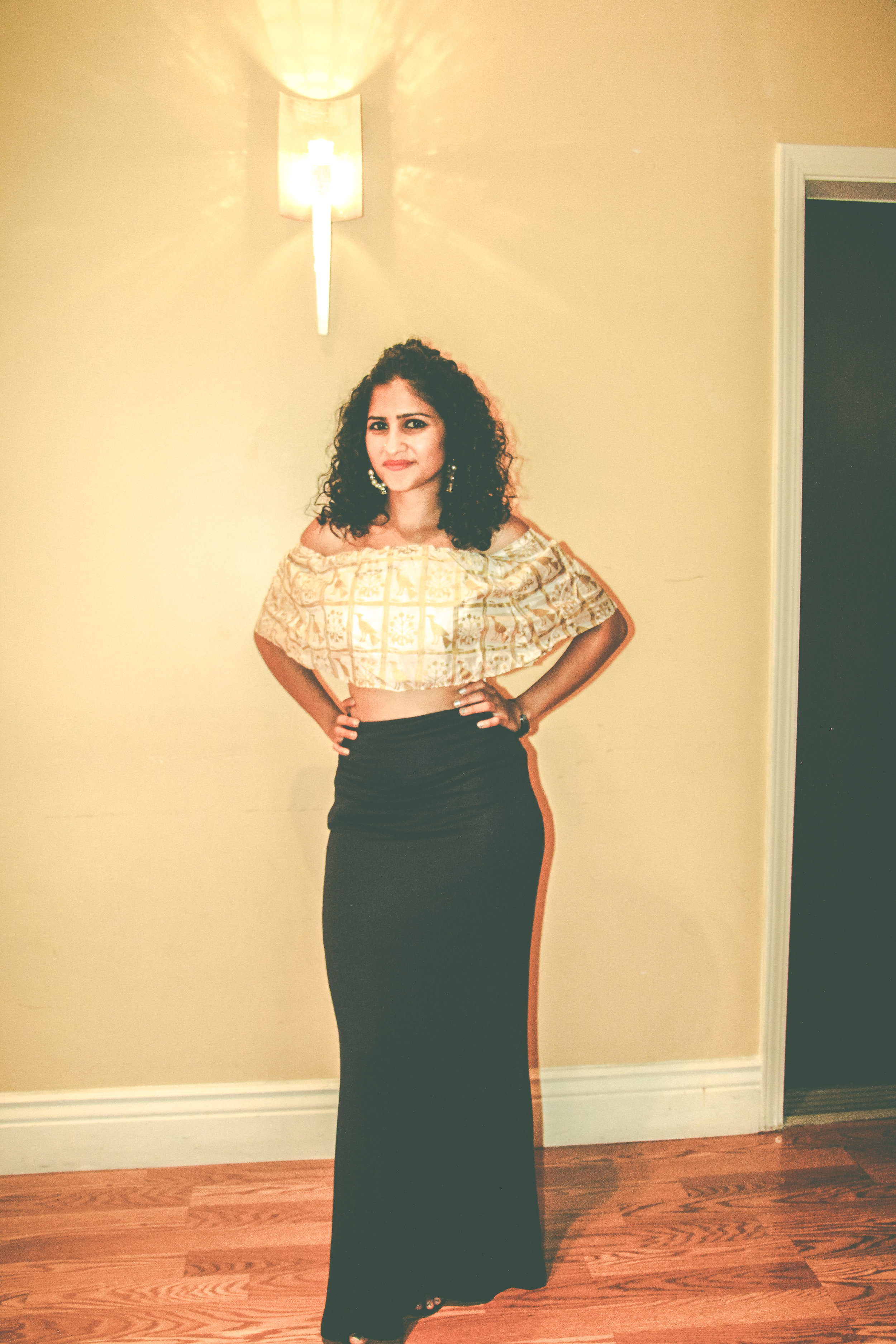 We sat down at the end of the show to talk to Masaba. Read on to eavesdrop on our chat.It started out with her appreciating my curls and me telling her what a big fan I am of her and my mom is of her mother (Nina Gupta).
If you had to pick one Indian & one Western item (accessory or clothing) to a create a fusion look what would it be?
Masaba: The one Western item I would pick is the corset belt because they are very in right now and I would totally wear it on top of a saree. It would be a really international look. There is nothing more traditional than the saree, and the belt is the modern addition.
What are the big trends that you are personally embracing right now?
Masaba: Personally, I am loving three trends. One, the no heels trend. I see everyone wearing keds & sneakers in many colors. Also, loving the trend of oversized clothes because I am all about comfort. I also believe women are pressurized to wear tight-fitting clothes, so I think with oversized clothes women can embrace their body and feel comfortable as opposed to just trendy. Finally, I am also loving the out-of-bed look. It's hard to crack the look because it's a fine line between getting it right and actually looking like you just made it out of bed.
Do you have workwear advice for hoodies, shorts, and t-shirt techies?
Masaba: I actually want to learn from them! I read that Mark Zuckerberg & Steve jobs had work uniforms so they didn't have to decide what to wear every day, and were more productive. I love work uniforms. I have started my work uniform, I only wear a white t-shirt or shirt and jeans every day. I love it because I am spending less time trying to sift through my wardrobe deciding what to wear. I always just team it with one accessory that changes every day; sometimes I wear hoops, or a band, or a necklace. I have been following this uniform for a month now and the only thing that will change is the color: I will probably change the white to black, but otherwise, I love work uniforms.
Thank you, Masaba Gupta! Don't forget to stop by the House of Masaba for fuss-free kitschy or elegant show-stoppers.